THE REMNANT PREVIEW BOOK
Publisher: BOOM! Studios
Available exclusively at SDCC, which starts today. Come by booth #2543 to get one. Contains the opening pages of the first issue and all sorts of behind-the-scenes goodies. Art by Julian Totino Tedesco and Paul Azaceta.

NEGATIVE BURN #21
Publisher: Desperado
Diamond order code: MAR083632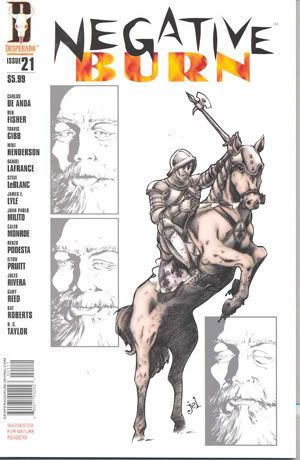 Contains the 8-page story "Filling in the Gaps" by myself and Carlos de Anda, with letters by Patrick Foster. It's a glimpse back through time, being only the second comic script I ever wrote and, I believe, the first to ever receive completed art. After all these years it finally sees print! This issue also includes the 1-page flash comic "Plummet", done with Daniel Lafrance and originally published here on this website. And a new short story written by my friend Elton Pruitt.
If you'd like a copy for yourself, but aren't familiar with the somewhat arcane ins and outs of the North American comic book direct market, here's your simple guide:
Find the nearest comic shop to you using The Master List.
Call or visit them and tell them you'd like a copy of NEGATIVE BURN #21. Finer establishments will already have it on the shelves, but if they don't or have sold out, then…
Give them the Diamond order code above and ask them to order you a copy.
And finally, if you live in an area without a nearby comic shop (as shocking as it is to realize such barbarism still exists, it does!), then you can order it online. Try somewhere like Things From Another World.
[UPDATE: I now provide an order coupon to simplify the whole process]
Contact


Representation:
Lily G. Tillers